We are a service organization dedicated to the betterment of the sport of fly fishing through conservation and education.
Photos:  September Meeting Fly Tying
See details and register for the Lydia Ann Fly Master's Tournament on September 20.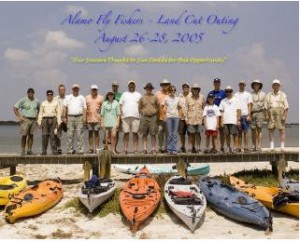 Do you enjoy the beauty and solitude of a mountain stream? Do you smile thinking about that two inch sun fish that you caught in a warm water river? Do you enjoy the trill of casting to a tailing redfish in the Laguna Madre? Do you care enough to pick up someone else's trash? And do you enjoy fishing enough to revive that fish and put it back in the water for the next guy? Then you know who we are – you are about us. Alamo Fly Fishers was formed by a group of people who love fishing and enjoy the additional thrill of fly fishing. We are enthusiastic about teaching those that wish to learn or to improve their skills. You will find us almost every Tuesday tying flies and lying about the one that got away or the one we landed. You will find us on the rivers, lakes, and Laguna's of South Texas and in the far corners of the world enjoying a remarkable hobby – fly fishing. For its solitude and camaraderie there is nothing like Fly Fishing.
Please visit our Facebook site: